This post brought to you by Kmart. All opinions are 100% mine.
Christmas is sneaking up on us! I can't believe that summer is already over and we are quickly approaching the cooler months. While it's still hot here most days, I can sense Fall is coming! 
This is my favorite time of the year. Pumpkin Spice lattes and Peppermint Mochas are a staple in our house and I begin thinking of Christmas presents. I love being able to pick out the perfect holiday gifts for my friends and family! 
Planning your Christmas shopping early can be an excellent way to get ahead of the Holiday time stress. I know I have already started planning what I will get getting. And Kmart has made it easy again this year their their free layaway.
I am eyeing this Xbox kinect bundle for my husband!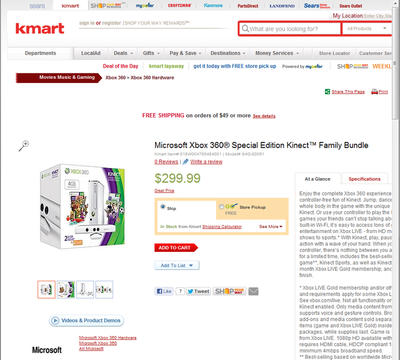 At Kmart, I can easily add products like this to their free layaway! And this year you have the chance to win items that you added to your layaway. In every story, each week beginning 9/9/12 through 11/17/12, they will be giving away one whole layaway (up to $500)! Hurry to enter Kmart's Big Layaway Giveaway.
Kmart has a great layaway program compared to their competitors: